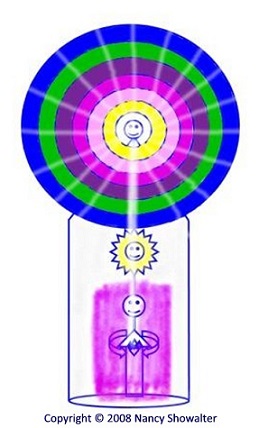 Today I want to talk more about that part of us that was made in the image and likeness of God that we are calling the I AM Presence, as well as what some term our Higher Self or Higher Mental Body, or Christ Self.  
Listen and subscribe on Apple Podcasts. 
Go to https://www.nancyshowalter.com/for a FREE Copy of My Book, It's OK to Be Rich:  The Entrepreneur's Guide to Increased Wealth and Personal Mastery and FREE Mini-Course, "How to Speak Your Success:  The Shocking Truth of How Your Words Impact Achieving Your Goals."
Invoking the Tube of Light for Protection
Beloved I AM Presence bright,
Round me seal your tube of light
From Ascended Master flame
Called forth now in God's own name.
Let it keep my temple free
From all discord sent to me.
I AM calling forth violet fire
To blaze and transmute all desire,
Keeping on in Freedom's name
Till I AM one with the violet flame.
From The Summit Lighthouse